Senator Hoeven; What Does He Mean for ND?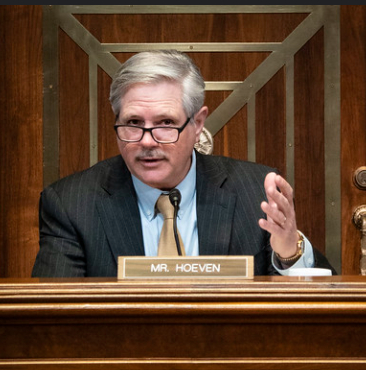 On November 8, Senator John Hoeven was reelected to represent the state of North Dakota for his third term. Senator Hoeven won 56.5 % of the vote, winning all counties but Rolette and Sioux. As a part of the Republican minority in the Senate, Senator Hoeven will have an uphill battle pushing legislation to the senate unless he gets bipartisan support on his bills. Hoeven could have major impacts for North Dakota, and here are some things to expect from his tenure.
Let's begin with his platform. His platform is derived from three pillars of policy: energy, agriculture, and national security. Energy is a big focus for Senator Hoeven, for many reasons. North Dakota ranks 13th in wind, solar, and energy storage capacity, and the industry creates 2,200 jobs along with $20.7 million in taxes that is invested in local and state communities. Wind energy is huge in North Dakota, and Senator Hoeven has taken serious action as a member of the Subcommittee on Energy. Senator Hoeven has also continued to advocate for oil and natural gas production.
In the agriculture department, Senator Hoeven has done a lot of work as the chair of the Subcommittee on Nutrition, Specialty Crops, Food and Agricultural Research. He has watched over the implementation and regulation of GMO crops. Hoeven has also sponsored bills like the Modernizing Agricultural Transportation Act, which pushed the Secretary of Transportation to establish a group to help better manage the supply chain for agricultural product distribution, or put simply, making it easier and more efficient to get food from the farm to shelves.
Finally, he also puts a major focus on National Security, with Hoeven sending North Dakota National Guard 1st Battalion to guard America's southern border. He views the 2,378,944 individuals who crossed the border illegally this year alone as a threat to our country. While this is a shared sentiment in the Republican party, Hoeven is willing to act and not just talk. In addition, Hoeven has stated that he is seriously concerned with the uptick in Fentanyl being trafficked across the border this year.
Senator Hoeven is a seasoned politician who has represented the state of North Dakota before, and we can be sure that he will be able to represent us effectively. Hoeven has consistently pushed the message of growth throughout North Dakota, and his policies will continue to do so.